Current Abu Dhabi Prayer Times 2019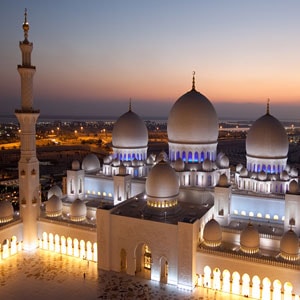 Whether you are traveling around Abu Dhabi or residing there, you should keep accurate Abu Dhabi prayer times schedule with you so that you never miss out on your prayers. Islam is the official religion of UAE and the majority of people living in Abu Dhabi are Muslims, but there are people belonging to other religions as well. Prayer is an essential part of Muslim's lives around the world and the people in Abu Dhabi follow their own time zone for Abu Dhabi prayer times. Beginning with Fajr, it is performed before sunrise. Abu Dhabi prayer times for Dhuhur are around noon and the prayer is performed at the same time in almost all mosques around Abu Dhabi. It should be noted that the time of Friday prayer for Dhuhur could vary in each mosque. So if you're traveling, you should keep a check on the prayer timings for the mosque which is nearest to you.
Asr prayer holds special importance and it is believed that it should be performed regularly for greater rewards. Furthermore, Abu Dhabi prayer timing for Maghrib are around sunset, and the prayer should be performed before sunset.
Isha prayer times according to Abu Dhabi prayer times are after sunset. Isha prayer also holds special importance. It is believed that it should be performed devoutly for your spiritual connection and internal peace throughout the night.
Follow Up With The Timings
All the prayers hold special importance in Islam and all the Muslims are expected to follow the prayer timings and say their prayer on time. Prayer times Abu Dhabi for all 5 prayers have been mentioned in the table below but it should be kept in mind that the Islamic prayer times change almost every day and each region has its own timings depending upon the time of sunrise and sunset. So everyone should keep up with their time zones and perform prayers accordingly.
Islamic Prayer Times Mehtods
MWL: Muslim World League
ISNA: Islamic Society of North America
Egypt: Egyptian General Authority of Survey
Makkah: Umm al-Qura University, Makkah
Karachi: University of Islamic Sciences, Karachi
Tehran: Institute of Geophysics, University of Tehran
Jafari: Shia Ithna Ashari (Ja`fari)
Monthly Abu Dhabi Prayer Times
Abu Dhabi other Details : Latitude = 24.4539° N, Longitude = 54.3773° E Zone Time = GMT +04:00 hours
Asr Methods
Standard: Shafii, Maliki, Jafari and Hanbali (shadow factor = 1)
Hanafi: Hanafi school of tought (shadow factor = 2)