Accurate Fujairah Prayer Times 2019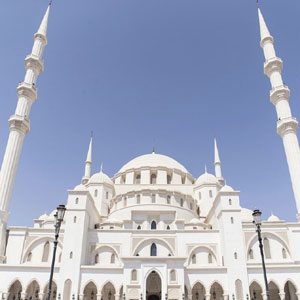 Fujairah prayer times according to the time zone that this city follows will be explained in this article and the exact timing for each day can be followed by the table given below. However, one should keep in mind the region that they are in and follow the prayer timings accordingly as timings are different for different cities.
Fujairah is considered one of the most developed cities of UAE, as it is also developed industrially as well as it offers various tourist attractions including historical places. There are also a few beautifully designed mosques around the city that the tourist can visit and perform their prayers according to Fujairah prayer times. Sheikh Zayed mosque is one of the largest one where Muslims perform prayers and it has space for around 32000 worshipers.
Starting off with the first prayer of the day, the Fajr prayer according to Fujairah prayer times is before sunrise. Muslims wake up at this time to offer prayer and it maintains an organized lifestyle as the day is started off early and thus more productive. Prayer times Fujairah, UAE for Dhuhur prayer are around noon. The importance of Dhuhur can be realized by the fact that a Hadith explains that it saves you from the hellfire. Asr prayer also holds the same importance as the rest of the prayer do. Considering the Fujairah prayer timing, the prayer time for Maghrib is before sunset. The last prayer of the day according to Fujairah prayer times is Isha. These timings differ a little bit from other surrounding cities.
Importance of Prayers
Prayers are an integral part of a Muslim's lifestyle. It is a divine source of communication with Allah. It has been made compulsory for Muslims to pray five times a day. These prayers are meant to bring spirituality to one's life as well as discipline and character. The importance of prayers has been emphasized repeatedly in the Holy Quran as well as Hadith. It must be kept in view that Fujairah prayer times mentioned above are just to be followed by people currently in this region. However, the detailed timings can be seen from the table given below.
There are five compulsory prayers for every Muslim. Fujairah Prayer timings is close to pray time dubai and islamic prayer times abu dhabi .
Islamic Prayer Times Mehtods
MWL: Muslim World League
ISNA: Islamic Society of North America
Egypt: Egyptian General Authority of Survey
Makkah: Umm al-Qura University, Makkah
Karachi: University of Islamic Sciences, Karachi
Tehran: Institute of Geophysics, University of Tehran
Jafari: Shia Ithna Ashari (Ja`fari)
Monthly Fujairah Prayer Times Schedule
Fujairah other Details : Latitude = 25.1164° N, Longitude = 56.3414° E Zone Time = GMT +04:00 hours
Asr Methods
Standard: Shafii, Maliki, Jafari and Hanbali (shadow factor = 1)
Hanafi: Hanafi school of tought (shadow factor = 2)